Doug Martin Goes National, Talks Koetter, Lovie, "Sponge" Jameis & More
February 4th, 2016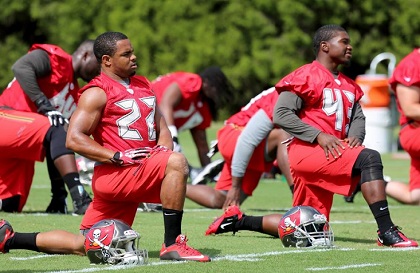 So what's a good way to pressure your team to give you a fat new contract?
Embrace the media and try to look like a very attractive guy on the national stage.
Doug Martin did that through most of last season, but he kicked it up a notch this week. Joe finds it very interesting that Doug Martin is rubbing elbows around the Super Bowl action in San Francisco. Hmmm, Joe doesn't recall Martin doing that in previous years.
Perhaps it's a coincidence, as he is from California, but perhaps not.
Martin hopped on NFL Network (video here) wearing a shirt and tie and talked about the shocking change from Lovie Smith to Dirk Koetter, how his two rough years were because of injuries, and about how he cared for his body and admired all things Jameis Winston in 2015.
This is also intriguing since Martin wanted little to do with media at the Pro Bowl last week, unless it was questions about the Pro Bowl and happy talk, versus contract questions and hardcore Bucs chatter. (Watch Joe's Hawaii interview with Martin here.)
Joe expects Martin to stay visible as he and the Bucs try to figure out a way to keep him in Tampa.
And yes, in that NFL Network video, Martin says he can't wait to get after it with Jameis next season.
Joe wonders what Martin would say about former Bucs rockstar general manager Mark Dominik claiming yesterday that Martin likely is worth around $5 million per season.