Chucky: "They're Better Than 6-10"
February 1st, 2016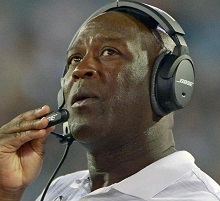 Iconic Chucky, the Tampa Bay Buccaneers' Super Bowl champion head coach, delivered what felt like a parting shot to Lovie Smith yesterday.
While announcing the Pro Bowl on BSPN yesterday, Chucky was talking about the Bucs and their recent changes and said, "They have four legitimate Pro Bowl football players. They're better than 6-10."
Simple as that.
Chucky surely wasn't down on the Lovie firing. Considering Chucky was axed after consecutive 9-7 seasons (unthinkable at this point in Bucs history), Joe understands why Chucky would think the Bucs should have been better than their record.
Don't think there's first-year pressure on Dirk Koetter? Think again.
Also intriguing about Chucky's comment was the "four legitimate Pro Bowlers" line. The Bucs had five in yesterday's game.
Later today, Joe will share part of an exclusive Hawaii chat with Chucky about new Bucs defensive coordinator Mike Smith.