Tampa Bay's Bruce Arians
January 17th, 2016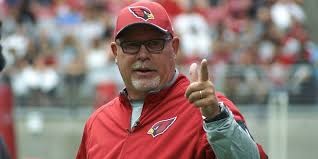 General manager Jason Licht opened up on the process of hiring Dirk Koetter to be the Buccaneers' 11th head coach.
Licht was swarmed by Joe and other media after Koetter was introduced Friday inside the classy auditorium of One Buc Palace. The GM was pressed to put into words the moment when he knew Koetter was the guy and why.
Licht explained, in part, that comfort and gut feelings were in the mix.
"While we were sitting here watching Dirk, I knew he was the right guy, through the process," Licht said. "And when we made the decision, I knew he was the right guy. I guess I can just put it like this: I looked to my wife and I said, 'We got the right guy.' There's an ease, a comfort level. It's very similar to the comfort level that I was around when we decided, Mr. Bidwell and [Cardinals general manager] Steve Keim, in Arizona that Bruce Arians was the right guy. That's the best way I can describe it."
Arians was hired when Licht was the No. 2 man in the Cardinals' front office, back in 2013. Arians was coming off winning NFL coach of the year with the Colts. There he won a stunning nine games as interim head coach, his first shot at a head job at 60 years old. Koetter turns 57 in a few weeks.
Koetter's vast experience in the college and pro ranks — he called plays for three NFL teams with top-10 offenses — was a major factor, and it will give Koetter a heavy hand in all things Bucs, Licht explained.
"He's been through everything. We used the word "battle-tested" all the time, a little bit too much sometimes, but he really has been. I'm going to lean on him through a lot of situations. We're going to work together. We've got a great relationship."
Bucs fans can dream that Koetter is their Arians. There surely are similarities on the surface.