Glazers "Are Very Thoughtful"
January 17th, 2016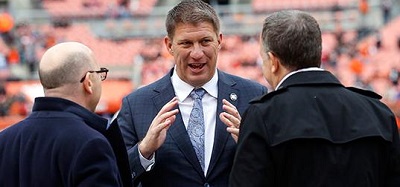 Team Glazer left the spotlight to their new head coach, after attentively smiling in the front row during Dirk Koetter's introductory news conference at One Buc Palace on Friday.
Corporate-style photos of Koetter and Team Glazer together came next, and then the owners gracefully but quickly exited behind the main stage.
One might find that evidence of Team Glazer being detached from the Bucs' coaching search and firing. But general manager Jason Licht painted a very different picture.
"Everything that they do here, the Glazers, was very thoughtful, think through everything," Licht said. 'I feel I have the same philosophy. At one point, he became the leader, and somebody was going to have to knock it off. I interviewed and I talked to and I researched a lot of great football coaches, lot of great ones. But it just became apparent, the more and more I talked to Dirk, that he was the guy."
Thought-provoking there is the direct mention of Team Glazer going all analytical and detailed with the surprising take down of Lovie Smith to the hiring of Koetter.
When Joe puts all clear facts on the table, and after seeing and listening to all the talk from Bucs' officials in person, Joe sense it was all Team Glazer when it came to firing Lovie. Joe thinks Licht provided ownership an honest postseason grade of Lovie and his duties. That grade was slightly below average, Joe believes, but without a recommendation to fire him. Kind of like a fourth-grader who gets a few Fs on a report card but still gets moved to fifth grade.
Team Glazer, though, had other plans — plans for immediate repair and replacement of the Bucs' defense while maintaining continuity for America's Quarterback, Jameis Winston.