Raheem Morris Takes New Career Path
January 25th, 2016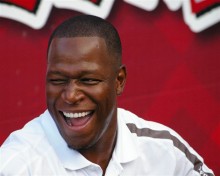 The ol' ball coach, the man who guided the Bucs to their last strong season, a prideful 10-6 in 2010, has made a stunning change.
Raheem Morris, the Bucs' former head coach and defensive coordinator, is now the Falcons' wide receivers coach and a passing game coordinator, per Atlanta Journal-Constitution beat writer D. Orlando Ledbetter.
Raheem was assistant head coach/defensive passing game coordinator last season, his first on head coach Dan Quinn's new staff.
"I am excited about these moves and what they will do for our coaching staff," said Falcons coach Dan Quinn. "I have known Raheem for over 19 years and I have no doubt his extensive background in the passing game will prove to be a tremendous asset to our offensive coaching staff. His experience, combined with his personality, makes him the perfect fit to take over this role."
That's one bizarre shift for Raheem. In fact, this is probably some sort of historic move in NFL history. When the hell does a career defensive coach shift to the offensive side of the ball? Raheem didn't even play offense in college.
It's not like the Falcons had a bad pass defense last season. Theirs had improved dramatically. They ranked 15th in the NFL, despite a pass rush far worse than the Bucs'.
Joe wishes Raheem well. If successful, it's clearly a move that will help him become a head coach again. Just 39 years old, Raheem has plenty of time to prove he's worthy of another shot.