Jameis Accuser Cashes In
January 25th, 2016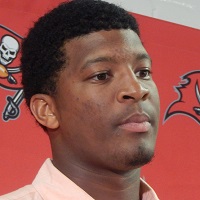 Per Rachel Axon of USA Today, Florida State University took what appears to be the easy way out and funneled nearly $1 million to the former FSU student who accused America's Quarterback, Jameis Winston, of rape.
You can read the full report here.
"We have an obligation to our students, their parents and Florida taxpayers to deal with this case, as we do all litigation, in a financially responsible manner," [University John] Thrasher said in a statement. "With all the economic demands we face, at some point it doesn't make sense to continue even though we are convinced we would have prevailed."
Translation: It was cheaper to pay off this wrongful accuser than pile up legal bills exceeding the $950,000 settlement.
Welcome to the United States of America.
Again, the USA Today report is available above. What's intriguing is that Jameis' accuser, Erica Kinsman, has a civil suit pending against him. Now that she has a pile of cash, will she be interested in risking it on legal bills? Or will she be represented pro bono?
Joe wishes FSU wasn't concerned about its legal bills. You'd think they'd have insurance for that kind of thing. It would have been nice to see the school stand its ground and let justice prevail for America's Quarterback.