No Surgery For Vincent Jackson
January 8th, 2016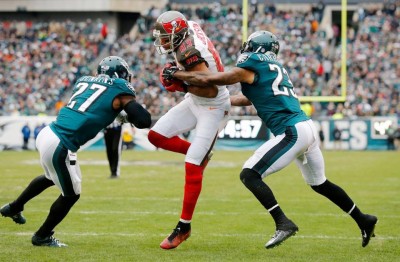 Vincent Jackson ended the season on injured reserve with a damaged knee and updated his situation on SiriusXM NFL Radio today.
Speaking to hosts Bruce Murray and Jackson's former teammate, eight-time Pro Bowler James Lofton, Jackson opened up about his future. Lofton asked whether Jackson needed to get his injury "cleaned up" in the offseason.
"No. No. It was just unfortunate for me, man, this year. I just took some unlucky shots. Literally, both of them were almost identical," Jackson said.

"Now I know we're dealing with all this targeting and the concussions but, honestly, both shots I'm going up for a ball, you know, a guy's coming low on me where I'm not looking and can't really protect myself. So, you know, it's a Catch-22 with the penalties now for these guys and their health. Fortunately, nothing major.

"I think if we were going to the postseason, I'd be playing."
So there you have it. Jackson will be just fine after injuring his knee early in the then 6-6 Bucs' critical home game against the Saints on Dec. 13. Jackson played in just eight games this year. His loss really limited the effectiveness of the offense.
Regardless, the Bucs have decision to make, considering Jackson turns 33 next week and is set to earn about $10 million in 2016. As Joe has noted previously, the Bucs are under no time pressure. Jackson only gets paid if he makes the opening day roster.
Today, Jackson went on to say he will not be altering his intense offseason regimen. Jackson said he goes hard into a non-football activity during his vacation, often boxing, biking or swimming.
"Whatever it is, I think the body needs to be shocked and not just continue to do football drills throughout the year," he said.