"Most Impressive" To Jason Licht
January 28th, 2016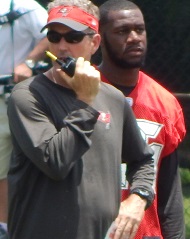 Dirk Koetter had plenty of excuses available for rolling out a garbage Bucs offense last season: major injuries to key receivers, rookie quarterback, late-to-the-party offensive linemen, among others.
But that's not what happened.
Koetter guided the Bucs to some record-setting offensive numbers, behind a revived offensive line that was among the league's very best.
Koetter made a tasty cake (not delicious) with second-rate ingredients. Yesterday, Bucs general manager Jason Licht said that was Koetter's signature dish.
"I think the most impressive thing Dirk did for us as the coordinator was, you know, most of the season we didn't have all the pieces. Vincent was down. Austin Seferian-Jenkins was hurt for a good portion of the season. And we were still clicking with guys like Adam Humphries and Donteea Dye in there, which were undrafted free agents, actually tryout guys that made our team and were making an impact for us in their roles, especially Adam Humphries," Licht told Movin' The Chains on SiriusXM NFL Radio

"To do it with those pieces, plus the street free agents that we picked up late with Joe Hawley and Gosder Cherilus. To get it going the way he did was very, very impressive."
It was impressive, and now Koetter is head coach. Ironically, if Koetter was just a little bit better, Lovie Smith would still be head coach.