Mike Alstott Talks Jameis, "Momentum"
January 18th, 2016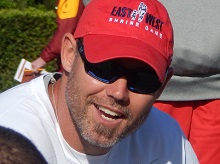 Joe caught up with the A-Train, Mike Alstott, in St. Petersburg this afternoon, where Alstott is serving as running backs coach for the "East" team for Saturday's East-West Shrine game.
Of course, Joe and Alstott discussed the coaching hire of Dirk Koetter, who replaced Lovie Smith.
"They made a great hire," Alstott said of Koetter. "It's a situation where there's a lot of momentum going on with that coach and the offense now. Get that defense going, too. There's a lot of great talent on defense. I think he'll get it all together."
Joe followed up and asked Alstott how he defines the "momentum" he referenced.
"Obviously, the leader. The leader Winston," Alstott said.

"Jameis is, you know, obviously that guy can make plays and do a lot of things. And very passionate you can see in his demeanor. And I think guys rally around him. He's got that presence where guys want to play for him, be in the huddle with him. When it starts with him, it helps two rookies on the offensive line. And then with all the stuff he did, he had a depleted wide receivers corps. And then you have your running back come back and lead the league. When you have a running attack like that and a guy like Jameis, you can't go wrong."
Man, Alstott, who isn't one for much emotion, really brightened up with speaking of America's Quarterback. It was as if Alstott wanted to suit up and play with Jameis immediately.
Alsott, who coaches high school ball in Pinellas County, said he really enjoyed his first day on the field today with the four running backs he's mentoring. He's loving the "coachable" nature of guys who had strong college careers. "You tell them something and they get it quickly," he said.
That's not enough, though, to get Alstott thinking of a coaching at the college or pro level. "Not yet," he said.