Lovie Will "Get Involved" In Convincing Mankins
January 4th, 2016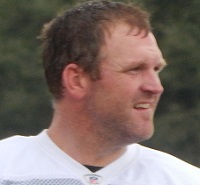 Twice during the past couple two weeks, Logan Mankins mentioned that he is considering retirement.
Today, at Lovie Smith's end-of-the-season eulogy news conference, Joe asked Lovie whether he would be someone who would get involved in selling Mankins on returning for another season.
Lovie said he considers himself a recruiter-in-chief.
"Part of my job is to recruit also, players that I think can help us win football games," Lovie said. "You normally you don't retire on a year, the type of year Logan had. You normally retire when you can't play football anymore. That's the not the case with Logan. I thought he had an outstanding season. Do I get involved in recruiting guys like that? Yes I do."
Joe doubts Lovie will have much of an influence on Mankins, who already must know how highly he is regarded by the head coach and general manager. Joe suspects Mankins' decision will come down to money (the $7 million he's due in 2016), an outside shot at the Hall of Fame with another strong season, and how much he misses his family. Mankins' wife and children live full-time in the New England area. They did not move with him when he was traded in August 2014.