Licht's Right Hand Will Interview For Titans Gig
January 7th, 2016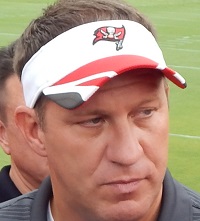 As Joe wrote last week, Bucs general manager and new Tampa Bay overlord of football operations Jason Licht is in danger of losing his right-hand man.
That is Jon Robinson, the Bucs' director of player personnel. This morning, ESPN is reporting that Robinson was granted permission by the Buccaneers to interview for the vacant general manager position with the Tennessee Titans.
Robinson was hired by Licht following the 2014 NFL Draft. He and Licht were scouting comrades under Bill Belicheat in New England, where Robinson spent 12 seasons before joining the Bucs. He interviewed for the Jets' general manager opening last year.
After Licht's grand slam in the 2015 NFL Draft, Joe has no desire to see Robinson leave.