Lavonte Talks Mentor Plan
January 4th, 2016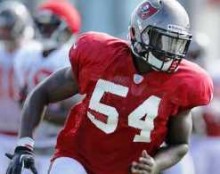 Lavonte David and Joe had quiet time today at One Buc Palace, and David shared one thing that will be a focus of his offseason.
David said he will be mentor-in-chief to 21-year-old rookie sensation Kwon Alexander.
"Kwon is a young guy, you know, he needs and older guy like me to be in his head this offseason," David said. "So I'll reach out to him as much as I can, and we already plan on working out together.
David was very close with former Bucs middle linebacker Mason Foster (2011-2014). The two trained together on their own time, often joined by Danny Lansanah. In addition to the friendship, David said it's important to him to keep the team unity through the winter time off.
"That's just the guy I am, man. I'm cool with everybody in the locker room. I'm cool especially within my group of [linebackers]," David said.
Joe's cool with that, and it's great to know Alexander won't be on an island this offseason, left alone to think about his costly four-game suspension and the October death of his brother.
Look for more from Joe's chat with David in the coming days.