Dirk Koetter Interviews With 49ers; Eddie DeBartolo Inspired?
January 9th, 2016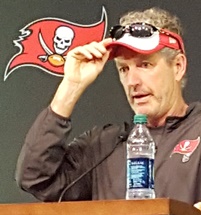 Yes, Joe is a certified football lunatic. Joe was listening live to the news conference of 49ers CEO Jed York this week after the firing of former head coach Jim Tomsula.
York was being peppered with questions after Tomsula was made a one-and-done coach, a guy who was in the Niners organization for years. One question posed was about whether York would hire a consultant for the head coaching search, given that his last hire was a bust.
York's answer was that he had no need for a fresh set of eyes. He said he had who he considered the best consultant available to him, his uncle, former 49ers owners and chief Eddie DeBartolo.
In fact, York said DeBartolo, who lives in Tampa and is a business partner with Derrick Brooks, had called him that morning at 5 a.m. to discuss the search.
Enter Matt Barrows of the Sacramento Bee. He is reporting Bucs offensive coordinator Dirk Koetter met with the 49ers today — in Tampa — for their vacant head coaching position.
Yes, Koetter is a viable candidate anywhere, but Joe finds the dot connecting very interesting here.