Brian Urlacher: Lovie Wants Hair
January 10th, 2016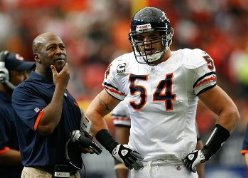 So what does Lovie Smith have planned for the offseason?
Lovie would have been busy shopping for free agents and making scouting decisions, even if Shaun King thought that was a bad idea. But Lovie also might be in the market for something else.
Retired Bears superstar middle linebacker Brian Urlacher joined good guy Peter Schrager on a FOX podcast last week. Urlacher, of course, was the anchor in Lovie's stunning Chicago defense. In 2014, there was talk that Lovie invited Urlacher to work with the Bucs' defense and ex-Bucs linebacker Mason Foster. And there were rumors of Urlacher being interested in a return to the playing field, but nothing on either front materialized.
Urlacher, who is no longer bald thanks to a hair transplant, said he recently got a text from Lovie that included a picture of Lovie's bald head. Urlacher said Lovie asked, "When can they do my hair?"
Joe's glad to see the head coach maintained a sense of humor after a late-season collapse. Team Glazer did not.