Josh Norman And The Bucs
January 29th, 2016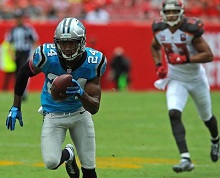 Big time/big mouth Panthers cornerback Josh Norman could be an unrestricted free agent in a matter of weeks.
And the guy who drafted him had an intriguing take about that yesterday.
Former Panthers general manager Marty Hurney has been drawing a giant spotlight this week. As Carolina GM, Hurney delivered eight of Carolina's 10 current Pro Bowlers to the team, either through the draft or free agency — before he was fired midway through the 2012 season.
Norman was drafted by Hurney in the fifth round back in 2012, just three spots after Tampa Bay selected linebacker Najee Goode. (Ouch!)
Speaking late last night on SiriusXM NFL Radio, Hurney said he believed the Panthers would be in a very difficult situation trying to re-sign Norman.
The team had talks with Norman's camp last year, but didn't get a deal done. And Hurney said breaking the bank for manbeast defensive tackle Kawaan Short likely would be their priority payout. Short, for those unaware, is the best DT in the NFC South. Hurney said Norman could walk even though the Panthers would like to keep him.
This begs the question of whether the Bucs would want to move fast on the premier cornerback, who just turned 28.
The Bucs have a pile of money available, and they won't have to pay Jameis Winston a king's ransom for at least three years.