Jason Licht Was Rattled
January 7th, 2016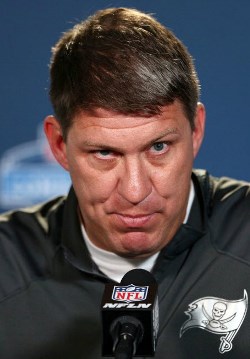 If Bucs fans think running off people at the NFL level is as painless as making moves in their weekly fantasy football leagues, they are sadly mistake.
Bucs AC/DC-loving general manager Jason Licht was proof of that today. In his press conference to discuss the firing of former Bucs coach Lovie Smith, Licht was rattled, ashen-faced.
Both Lovie and Licht are friends. Licht likely would not be the Bucs general manager, or maybe a general manager at all, if not for Lovie. It was Lovie who brought Licht into the fold.
At times, Joe thought Licht was going to break down. He took several deep breathes. His voice was close to cracking. It looked like he was just told someone ran over his dog, if not worse.
The nonsense about Lovie being fired by phone, Licht explained, is a lie (never mind, Lovie has a $10 million parachute, so stop with the unprofessional talk).
Licht explained Team Glazer told him last night by phone of their decision to run Lovie and they planned on meeting with him at One Buc Palace Thursday (today). Shortly thereafter, Licht said, Lovie called him and Licht, as he explained wit his deep respect for Lovie, informed Lovie that the meeting would likely not go well for him.
Lovie quickly put 2-and-2 together and told Licht to have the Glazers just call him instead. Lovie had no interest in meeting with Team Glazer today. Lovie then arrived at One Buc Palace Wednesday night to clean out his office.
And so the search for a new Bucs coach begins. Licht said there is no timetable. The only objective is to find the best candidate.
From today's presser: GM Jason Licht clarifies last night's phone call with Lovie Smith. https://t.co/ZidOxpdZAs

— Tampa Bay Buccaneers (@TBBuccaneers) January 7, 2016