Jameis Winston Turns 22
January 6th, 2016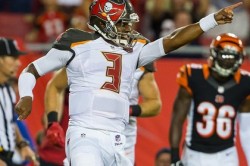 The Buccaneers' franchise quarterback turned 22 at the stroke of midnight.
Hopefully, he's no longer all jacked up from teammates who lack desire. Wait, Joe takes that back. Let's hope Jameis remains peeved.
The Bucs need that fire to stay lit and ignite those around Jameis.
But today should be a day of birthday celebration for Jameis, the young man keeping Lovie Smith employed and loads of Bucs fans from unspeakable acts.
Joe sure hopes Jameis has a safe day. It's far too easy to do something stupid when you're young and on vacation with millions of dollars, and with legions of women ready to engage in other types of unspeakable acts.
Jameis' teammates are aware of his birthday. Joe talked to some of them about it on Monday. Nobody was willing to reveal the plan to Joe, but rookie receiver Adam Humphries, a good friend of Jameis, said the proper acknowledgement will occur.
"He's the starting quarterback. You gotta do something for him," Humphries said.