Decisions Separate Jameis
January 13th, 2016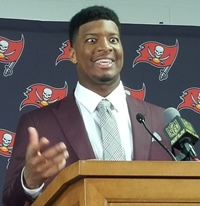 Man, it's so damn refreshing to see an analysis of America's Quarterback, Jameis Winston, that is all about film and nothing about stats.
Joe recommends this NFL Network video featuring retired linebacker LaVar Arrington. He breaks down three plays that focus on Jameis' decisions, with a secondary look at execution.
It's definitely worth a look as you fantasize about a winning season in 2016.