"An Experience League"
January 20th, 2016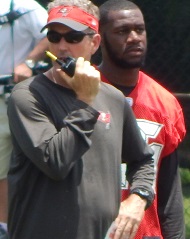 Lovie Smith was very vocal about his eagerness to play rookies and young players, and Lovie often talked about how he thought college players were more ready than ever to take on the NFL.
But Dirk Koetter?
Joe's not sure.
Koetter used an interesting phrase just after a getting hired. "Experience counts a ton in this league. The NFL is an experience league," he said.
Bucs fans remember their Super Bowl head coach, who was no fan of rookies and youngsters. Perhaps Koetter is the same way. That's unclear.
The Bucs will have $50 million+ to shop when the free agency dinner bell rings in seven weeks.
Of course, it would be pointless for general manager Jason Licht to sign a player Koetter finds unacceptable. But Joe has a feeling Koetter is going to see plenty of experienced talent — expensive and inexpensive — that he would like on his roster.
Koetter knows better than anyone that injuries to veterans Louis Murphy and Vincent Jackson are why Koetter is head coach and Lovie is spending more time at Culver's with his wife. Joe envisions Koetter eager to attack the Bucs' various depth issues as soon as he can.