A Tryout For Johnthan Banks?
January 1st, 2016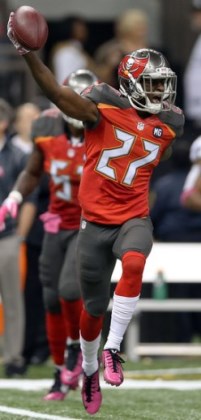 One of the great mysteries of 2015 was not how Joe still failed to lure Rachel Watson into his lair (frankly, that's not much of a mystery).
No, the mystery was what the heck happened to Johnthan Banks?
The talented second round pick from Mississippi State seemed to be in the crosshairs of Lovie Smith from the day he took over the Bucs. Joe will never forget in training camp of 2014, whenever Lovie was asked about Banks, Lovie would immediately turn the conversation into his adoration for Toast Jenkins.
That bromance sort of blew up in Lovie's face, didn't it?
But it did not subside. When Lovie was asked about Banks, he routinely would flip the conversation back to Jenkins almost as fast as he would dismiss opposing quarterbacks' completion percentage against his secondary.
It still amazes Joe that for all the incessant, weekly whining Lovie does about lack of takeaways, he benched the guy who led the team in picks in 2014, Banks. Be careful what you wish for, right?
Well, yesterday, when defensive coordinator-in-name Leslie Frazier took to the microphone at One Buc Palace for what very well may his final press conference (his contract is up, his duties have been stripped and if Lovie is looking for a fall guy for his awful defense, Frazier is set up perfectly for such a tumble), Frazier seemed to hint that Sunday's game with Carolina is a tryout for Banks to remain with the Bucs.
Frazier cited Banks for his good play last Sunday, but then when asked why he hasn't played that much this year, Frazier sounded like Banks is on thin ice.
"He's done some good things for us in the time and he has had an opportunity, will have an opportunity over this past game and of course this ball game as well to show why he deserves to be in the mix in 2016," Frazier said. "He's done some good things at times. Just has to keep giving him opportunities and keep getting opportunities to make plays for us."
Well, it is sort of hard for Banks to have opportunities from the sidelines.
This is troubling. Banks played well under former Bucs commander Greg Schiano. Remember, as a rookie he took over for a hurt Darrelle Revis and shut down Calvin Johnson. Then he followed that promising rookie season by leading the team in picks.
Now, Banks must prove in the final game that he deserves a roster spot? Something doesn't add up.