What Dirk Koetter Is Drilling Into His Players
December 13th, 2015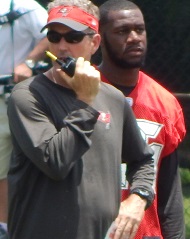 Colorful offensive coordinator Dirk Koetter is great fun at his weekly news conference, but what's he really saying behind the scenes?
Vincent Jackson talked about Koetter's recent focus, during Jackson's Friday night show on the Buccaneers Radio Network.
Jackson explained that Koetter has transitioned to drilling players regularly on the importance of fundamentals in December. Per Jackson, Koetter is lecturing the team on the fact that playoff teams are winning on sound fundamentals during the stretch run, when lesser teams are getting out of their games and slacking on the basics.
Fundamentals, fundamentals, fundamentals, Jackson said, is the message to the offense. And Jackson said that very much ties to the Bucs' problems with penalties.
Joe's going to keep an eye on that today — to see if Koetter's message sinks in. The Saints' defense is extraordinarily vulnerable.