Three Straight Years Of Lovie Collapses
December 27th, 2015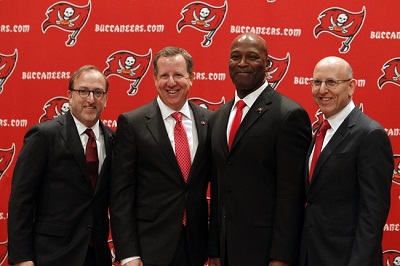 Joe has written many times that coincidences are as rare as Joe getting invited to pool parties by hot women.
(Yeah, it happens once every decade.)
But in the world of football, coincidences are even more rare. Things happen for a reason, and winners and losers are rarely defined by luck — good or bad.
In 2012, Lovie Smith's Bears were 7-1. They collapsed and finished 10-6 and missed the playoffs, leading to Lovie getting fired.
In 2014, Lovie Smith's Buccaneers lost their final six games, five of which they were trying to win.
In 2015, Lovie Smith's Buccaneers lost three in a row to losing teams following a 6-6 start.
To use a baseball analogy, one could argue Lovie has lost his fastball when it comes to motivating and preparing a football team when the games matter most. After all, it was Lovie who proclaimed that real football starts in November, and that his teams are prepped to play their "best ball" in the second halves of seasons.
Joe can only imagine what Team Glazer will be thinking if the Bucs lose next Sunday in Carolina.