"They Gotta Be The King Of Holding"
December 31st, 2015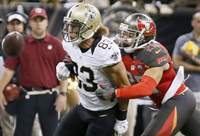 Who doesn't like a good look inside your beloved Buccaneers?
Joe sure appreciates all glimpses into reality.
With that, Joe presents the latest "Mic'd Up" segment out of Sunday's Bucs-Bears clash. Cornerback Sterling Moore was pinned with the in-game microphone.
Fans get to see Gerald McCoy trying to inspire his team with a pregame message, "Let's have fun." You'll also hear an unidentified player yelling at the defense during the pregame to remember how they didn't show up against the Rams.
Also, there's good interaction between Moore and cornerbacks coach Gil Byrd. And the Bears' tactics appear to wear on Moore. "They gotta be the king of holding," he said.