"The Final Taste"
December 22nd, 2015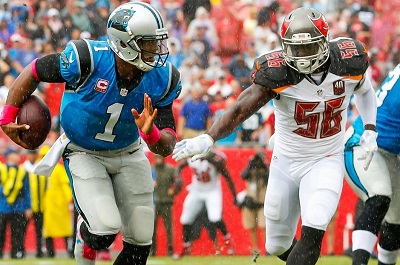 It sure sounds like Lovie Smith will be a huge Carolina Panthers fan on Sunday.
Speaking on the Buccaneers Radio Network last night, Lovie admitted to doing what he never does, looking ahead to an opponent that is two games away.
Lovie said he realizes the Bucs' 2015 season is over, and while the Bucs-Bears game on Sunday is brutally critical, he won't shy away from wanting the hide of Carolina.
Beating the NFC's No. 1 seed in Week 17 would be fantastic for "the final taste we have in our mouths," Lovie said. "A good going-away-for-a-while present," he said.
The "going a way for a while" line fits with Lovie's new theme: that the 2016 season already has begun.
Joe would like to see Carolina undefeated when they face the Bucs. What a great measuring stick for the Bucs to face a dominant team playing for a place history in what would be their wild home crib.