The Bucs Will Get Carolina's Best
December 27th, 2015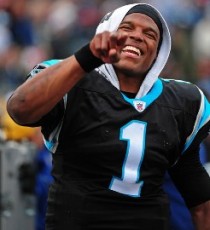 The Bucs will get one heck of an honest test next Sunday. The Panthers still haven't locked up the No. 1 seed in the NFC.
With the Panthers (14-1) losing to Atlanta and the Cardinals (13-2) blowing out Green Bay today, Carolina must beat the Bucs on Sunday to assure their top-dog status in the conference. Therefore, the Bucs head to Carolina to face a hungry, great team before a revved up and hostile crowd.
Joe is so pleased that the Bucs will get to test themselves and won't play a team that's mailed it in. Lovie Smith and Jason Licht need every second of true evaluation they can get their hands on.
In the locker room after today's game, Joe heard several Bucs defensive linemen chatting about how disappointed they were that Carolina lost. They wanted to knock off Carolina from the undefeated ranks. Well, guys, you're still going to take an important game from the Stinkin' Panthers.