Lovie Will Enter His Gus Bradley Year
December 27th, 2015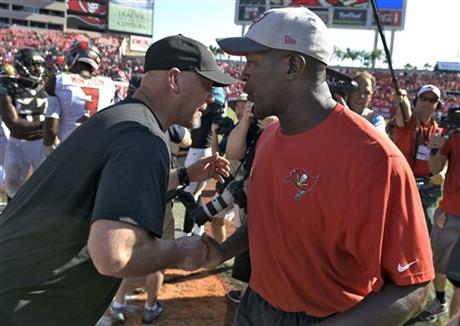 Over in Jacksonville, Jaguars fans screamed for head coach Gus Bradley's head after last year's 3-13 finish with a rookie quarterback in 2014.
They bellyached that Bradley should be fired for two consecutive ugly seasons.
But ownership stood behind Bradley and let him hire former Bucs offensive coordinator Greg Olsen to develop Blake Bortles and restructure the offense. Ownership also believed Bradley, the former Bucs linebackers coach and Seahawks defensive coordinator, was the right guy to fix their defense.
Well, Bradley and the Jags got smoked by the Saints today, and the Jags have a 5-10 record in the worst division in football.
Joe brings this up because the NFL is a copycat kind of league. Owners and general managers love trends. They love to study what works and what doesn't.
In Jacksonville, a third year for their defensive head coach and emerging second-year quarterback didn't work. And Jags fans are screaming again for a new head coach. Joe is very curious to see what happens in Jacksonville — in eight days and during next season.
Joe believes Lovie Smith is about to enter his Gus Bradley year. There are distinct parallels.