Tallahassee For Preseason Games?
December 3rd, 2015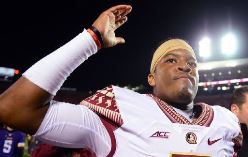 Yes, your beloved Buccaneers are currently homeless for the 2016 and 2017 preseason.
That might have been the biggest news from yesterday's announcement of massive improvements coming to Raymond James Stadium.
Joe can't stop thinking about where the Bucs will go. And will season ticket holders be off the hook for those preseason games?
Joe would wager that at least one game per year will be played at the fabulously renovated Citrus Bowl in Orlando.
But the other games might just go to the highest bidder. Mexico City? Europe? Toronto? Birmingham? Tallahassee?
Yes, Tallahassee. There are loads of Bucs fans there. Bucs games are even broadcast on live radio. And what a popular homecoming that would be for America's Quarterback, Jameis Winston, stepping back onto the field of Doak Campbell Stadium. Joe has no doubt the stadium would be nearly full.
The Bucs might even garner some good will, generating revenue for a state university.