Simms: Jameis Winston Ranks As 10th-Best QB
December 3rd, 2015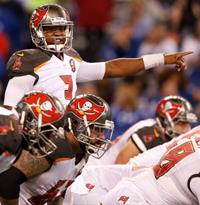 Joe's glad to know that savvy, intelligent and knowledgeable NFL analysts see the greatness in America's Quarterback, Jameis Winston.
Former Bucs QB Chris Simms might be the best analyst you don't hear much about. Simms calls games as a color man for CBS TV, in addition to college football games, and he's an in-demand guest on many national radio shows. Plus, he does quality work for Bleacher Report. Joe loves that Simms is an anti-stats guy, preferring film over spreadsheets.
In the Bleacher Report video below, Simms serves up his rankings of NFL QBs. Jameis checks in at No. 10, ahead of Matt Ryan, Sunday's opponent. Marcus Mariota is No. 18.
Also of note, still on the Buccaneers' 2015 schedule is Jay Cutler, ranking at No. 7 overall. Simms argues Cutler might be the most consistent QB of this NFL season. It's hard to argue against that. Cutler has had one of the biggest revivals in recent memory, though he has plenty of time left to melt down.
Enjoy the video below. And be proud, Bucs fans.