Stop Calling For Lovie's Head
December 27th, 2015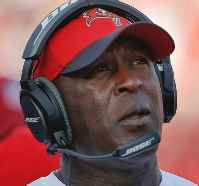 Feel free to scream till you can't breathe. Joe gets the frustration, but Lovie Smith is not getting fired in eight days, nor should he be fired.
This is not Joe praising the head coach who has guided a horrific three-game collapse, culminating in today's loss to the miserable Bears.
Joe is merely dealing in reality. Lovie's team improved significantly this season. He handled and developed America's Quarterback, Jameis Winston, beautifully. (Don't pretend he didn't.) And Lovie will be returning no matter how loudly you moan.
But Lovie's December meltdown has stacked a whole bunch of firewood under his buttocks for 2016. And he's earned it.
Don't think Lovie will be on a hot seat in 2016? Tomorrow, Joe will share a key Bucs official talking publicly about playoff expectations for next year.