Since 2012 Start, McCoy Leads NFL DTs In Sacks
December 3rd, 2015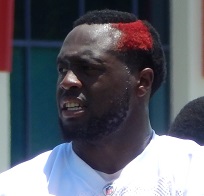 What a worthless sack of shame that Gerald McCoy is.
Man, the guy just doesn't produce.
Of course, Joe is joking and poking the legions of eager McCoy bashers.
One statistic being trumpeted on the Buccaneers Radio Network this week is that McCoy leads all defensive tackles in sacks since the start of the 2012 season.
That should be telling, but perhaps it's not. Today, acting Bucs defensive coordinator Leslie Frazier said the recent statistical uptick from McCoy really doesn't mean much. McCoy, per Frazier, has been very consistent this season and is just playing his game — as one of the very best in the game.