Preparing For The "Signature Win" Morons
December 7th, 2015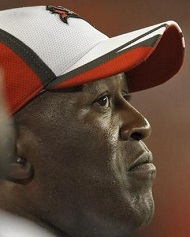 Legions of idiots across the Tampa Bay area, if they haven't gotten to you yet, will soon be trumpeting that of all the teams the Bucs have beaten this season, not one owns a winning record.
These haters disguised as realists were the same blowhards moaning in 2010. Back then the phrase was "signature win," as in the Bucs didn't have one.
Raheem Morris and Josh Freeman rode a 9-6 record into Week 17, and alleged Bucs fans were pounding their chests because the Tampa Bay hadn't accomplished anything in their minds.
Even a win against then-mighty New Orleans in Week 17 wasn't enough, because the Saints trailed late and yanked Drew Brees because they already locked up home field advantage in the playoffs.
Joe considers this a bit of a public service announcement to help you prepare for a barrage of inevitable negativity.
With the Saints, Rams and Bears as the Bucs' next three opponents, there's a good chance the Bucs will be 9-6 (again) without a 2015 victory against a winner. Of course, the Falcons could emerge from their 6-6 mark, but they still have two games remaining against Carolina.
And speaking of Carolina, there's that final Bucs game of the season at the stout Panthers. Will Carolina rest starters? Or will they go all out to finish undefeated?
Regardless, there will be too many Bucs fans and NFL fans at the office this morning — and on local radio — discounting the Bucs' accomplishments this season.
It was moronic talk in 2010, and it is now. You play the schedule that's in front of you, and wins are never easy and should not be shortchanged.