One Loss From "Infamy"
December 28th, 2015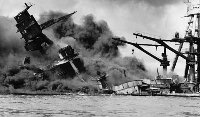 How brutal has it been for Bucs fans the past five years? Losing is expected. Thanksgiving draft talk is the norm. Hope is fleeting if not hopeless.
Of course, this year, there was a glimmer of light. The Bucs drafted America's Quarterback, Jameis Winston, and by his sheer power of will to win got this moribund franchise in the playoff hunt in December.
For Bucs fans, just the sniff of the playoffs in December was enough to throw a Mardi Gras parade.
But alas, the NFL caught up with the Bucs. Three consecutive losses to three sadsack teams brought the Bucs back down to reality and, sadly, as the Custodian of Canton, eye-RAH! Kaufman of the Tampa Tribune notes, on the cusp of a sickening "infamy."
The Bucs head to Carolina trying to avoid infamy. No NFC team since the 1970 merger has occupied its division cellar five consecutive seasons. But if Tampa Bay loses at Carolina and New Orleans beats Atlanta, the Bucs will finish last in the NFC South at 6-10, giving them the same basement view they've been saddled with since 2011.
That's enough for Bucs fans to want to ram their rig over a mailbox heading home after work.
Look, given the parity (parody?) of the NFL, you really have to try to be this rotten for this long of a time. And most of these years the Bucs have done this with a troika of players most NFL teams would crawl on broken glass to have; two of them are Gerald McCoy and Lavonte David.
Five years in a row in the division basement? Unreal and unacceptable.
The pressure is on Lovie, both Sunday and very much so next season.