Lovie: Welcome To 2016
December 21st, 2015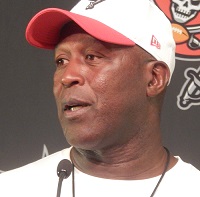 The page has been turned, says Lovie Smith, but the book is still open and you better be reading.
That's the message from the Bucs' head coach to his players.
Lovie told media today that being eliminated from this season's playoff chase means next season already began.
"I'm saying our 2016 season has started," Lovie said. "There's a two-game part of the season, we're going to take a long break, but we want to show everybody what we are going to be next year. That's how we are handling this. For us, we're also going to finish up the season with the best team in football playing right now, so there's a lot for us to do these last couple [of games]."
Yeah, Joe gets that head coaches seem set on always having some theme going for some reason. Joe kind of liked how Greg Schiano refused to reference anything other than the one-game season of the current week. That was a lot simpler.
Regardless, themes and slogans and angles are worth little.
If the Bucs aren't motivated to line up and play their asses off for the beaten down home crowd on Sunday, then Joe will be heading for a quart of high-octane eggnog.