Lovie Details "Why Jameis Is A Special Guy"
December 30th, 2015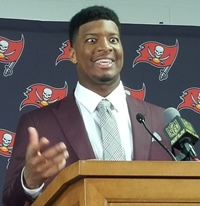 Bucs fans have watched America's Quarterback, Jameis Winston, avoid a lot of sacks, extend many plays and be a strong decision-maker and playmaker since Week 4. Heck, Jameis has 13 interceptions this year, despite being down three key receiving targets most of the season.
Nearly every analyst pegged Jameis for at least 20 picks this year.
Lovie Smith was reminded about how many plays — running and throwing — Jameis has made with his feet. There were two big throws to Charles Sims and Cameron Brate on Sunday, where Jameis was visibly directing his receivers before throwing them big plays.
Lovie said those exemplify Jameis' work ethic and his soulful feel for the game.
"Those are veteran plays. Very impressed," Lovie said. "But to have that type of knowledge, you have to have a good base coming [from college] and you have to be a workaholic and get good coach. All of those things, along with an instinctive player. Jameis has great instincts, and that's really what it comes down [to] for the position. That's why he's a special guy."
Joe agrees with Lovie. It's Jameis' instincts that put him on a higher plane than most QBs. And those instincts haven't been shaken or infected, despite absorbing too many hits and excessive losing.
The great thing about Jameis is that he embraces learning. (Joe will have more about that later) That will be key to Jameis' rise into the elite QB ranks.