Jeff Fisher: Rams Coaches Were Handicapped
December 19th, 2015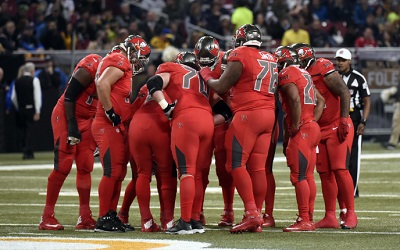 Just when you thought the tender regions of your Bucs-loving groin couldn't handle more punishment.
It turns out that not only were the Rams leading the Bucs 28-6 late in the third quarter on Thursday night, they were pounding Tampa Bay despite being visually handicapped.
Rams head coach Jeff Fisher joined Movin' The Chains on SiriusXM NFL Radio yesterday following his team's crushing of the Bucs on Thursday Night Football. It was Fisher's regular weekly time slot on the show, so he was very relaxed and comfortable.
It was there he revealed that Rams coaches were having issues with Tampa Bay's "color rush" uniforms unveiled for this game. Fisher said recognizing Bucs numbers was difficult for his staff and they struggled to identify players, a key role that is directly connected to choosing "personnel groupings" assigning match ups.
Joe sure struggled a bit on television to identify defensive players, and it surely was challenging from Joe's vantage point in the St. Louis press box.
For Joe, Fisher's remarks make the reality of losing to Case Keenum and a bad football team that much tougher to take.