Jaws Bites Jameis
December 12th, 2015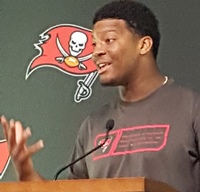 After all of Ron "Jaws" Jaworski's study of quarterbacks entering the 2015 NFL Draft, after all his time at One Buc Palace this summer, and after 12 regular-season games, the BSPN quarterback guru still doesn't get it.
The man is blind to the steady development, accomplishments and success of America's Quarterback, Jameis Winston.
Jaws was pimping his new NFL quarterback rankings yesterday. So Joe clicked the link and saw Jameis ranked as the 24th best QB in the NFL, one slot behind Marcus Mariota (23).
The brilliance of Ryan Fitzpatrick (16) and Tyrod Taylor (20) are among those ranked higher than Jameis.
It's this kind of stupidity that drives Joe to consume gin in mass quantities.