"If We Keep Ourselves Clean"
December 12th, 2015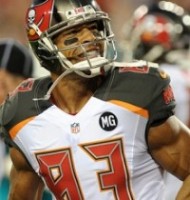 Big talk from Vincent Jackson.
The soft spoken Dunkaneer with the most reliable hands was brimming with confidence on the Buccaneers Radio Network last night.
He no longer married to a one-game-at-a-time mindset. Jackson said the entire Bucs team realizes the growth from last year and the results of super hard work all of this season.
On dropping the Falcons last Sunday, Jackson said, "We deserve to beat a team like that."
And he went to say the team is focused daily on cutting penalties and is constantly reminded that the Buccaneers lead the league in that department. But Jackson said wiping up that mess will make the Bucs an elite football team.
"I don't care who you bring in here, or who we go face on the road," Jackson said. "If we keep ourselves clean, we have all the skills we need at every position. And obviously we have a great coaching staff."