Jameis Winston's Best Friend
December 12th, 2015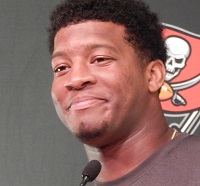 America's Quarterback, Jameis Winston, has one great situation here in Tampa.
Why? The offensive players around him are a healthy, functioning group by NFL standards. In fact, they're pretty damn good, led by a strong offensive coordinator.
As football junkies know, the best friends of any rookie quarterback are a solid running game and manageable distances on third downs.
Researching Sunday's Bucs-Saints game, Joe learned that the Bucs, your beloved Tampa Bay Buccaneers, lead the NFL in gaining an average of 6.4 yards on first down. Again, that's the best first-down rate in the league.
Man, if Mike Evans and Austin Seferian-Jenkins could just become reliable targets, "lethal" might be an appropriate word for this offense.
And imagine if the Bucs decide to move all-in to support Jameis and draft a couple of stud offensive players in 2016.