Jameis Blames Refs, Not Throw
December 13th, 2015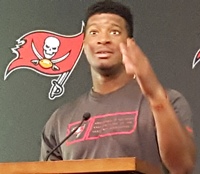 Don't dare suggest to America's Quarterback, Jameis Winston, that he overthrew Charles Sims in the fourth quarter for what looked like a sure touchdown bomb.
The alleged overthrow to Sims, who had two steps on the coverage and nobody in front of him, was about two yards too long. The subject came up at Jameis' postgame news conference, and Jameis absolved himself of blame.
"No, actually, 20 yards down the field No. 59 [Dannell Ellerbe] hit Sims and it slowed him down," Jameis said. "So [the throw] probably would have been right on the money. But we didn't get the call. It was a bunch of unfortunate things that happened out there. But we can't hurt ourselves. That's the main thing. We can't hurt ourselves and we got to bounce back."
Joe likes Jameis standing up for himself and not being all PC when it comes to referees. Jameis, verbally, has taken the fall for many drops and other screw-ups by his teammates this year. But there's no reason to bow to the zebras.