Godfather Blessing For Jameis Winston
December 15th, 2015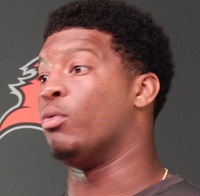 Settled in at the office and working daily at 6 a.m.? There aren't many 21-year-olds putting in that kind of commitment.
But one of them is America's Quarterback, Jameis Winston.
That's the word from NFL Scouting godfather Gil Brandt, the 80-something personnel legend who still works for SiriusXM NFL Radio and NFL.com, and plays a big role at the NFL Scouting Combine each year.
Working hard is nice, but working smart and realizing results is far more important.
Brandt set out to study the performance of the QB classes from 2014 and 2015, and he came away impressed. While he ranked Jameis third overall, he noted the drive of the Bucs' franchise QB versus his peers'.
Here are Brandt's rankings:

1 Blake Bortles
2 Marcus Mariota
3 Jameis Winston
4 Derek Carr
5 Teddy Bridgewater

Brandt said separating the next three quarterbacks over the same span — Derek Carr, Jameis Winstonand Marcus Mariota — isn't easy, noting that Carr could easily be the No. 2 in the group, and that Mariota is difficult to judge because he needs more help at wide receiver. Winston, meanwhile, is really putting in the time.

"I don't know if there's a harder working guy than Winston. They say he's at the office working every morning at 6 o'clock, so the guy has great work habits," Brandt said.
Bortles is having a heck of a sophomore season on the stat sheet, but please, Joe wouldn't trade Jameis for Bortles and Rachel Watson. (Well, maybe.)