Gerald McCoy Identifies "Our Achilles' Heel"
December 1st, 2015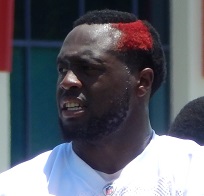 Joe's got ironic and telling words from Gerald McCoy.
As regular readers here know, Joe searches the globe for all things Bucs night and day, winter and summer, holidays and weekends. But sometimes Joe misses something. This evening, Joe located a McCoy interview on CBS Sports Radio with Tiki Barber last week, prior to the meltdown in Indianapolis.
Barber asked McCoy what the "X-factor" to push the Bucs into the postseason will be. McCoy had a quick answer.
"I think it's two things: eliminate penalties and finish games," McCoy said. "That's been our Achilles' heal the past couple of seasons, penalties and not finishing."
Man, isn't that a head-shaker? McCoy uttered those words before Sunday's game, when the Bucs melted down and had 12 penalties, many of them costly. And the Bucs were shut out in the second half, despite leading at halftime and having the ball to start the third quarter.
McCoy said penalties have literally lost the Bucs multiple games this season. He specifically cited nine third-quarter penalties in Washington. As Joe noted yesterday, the Bucs are on pace to set the single-season NFL record for penalties.
There's still time to correct the Bucs' troubles in these areas. It's very much on Lovie Smith if the team can't end the sloppiness.