Beasley Blues A Lesson For Bucs
December 4th, 2015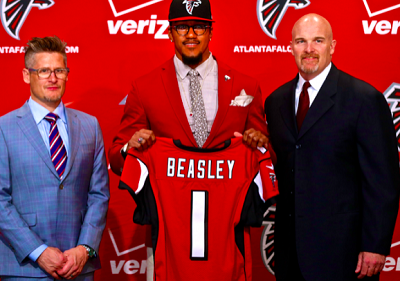 So you think the Bucs' defensive issues immediately will be solved by drafting an edge pass rusher?
A telling NFL Draft stat from the Atlanta Journal Constitution might change your mind.
Per Michael Cunningham, just one-third of pass rushers drafted with a top-10 pick in the past 10 years had five sacks or more as a rookie.
That's a lot of dudes coming in with high hopes and needing significant time to produce. Of course, there are plenty of busts in the mix from that 10-year sample.
This is a focus in Atlanta because rookie Vic Beasley, the 2015 No. 8 overall pick out of Clemson, the alleged savior of the Falcons' pass rush, has just two sacks. And he has none since Week 3.
Louis Riddick, a former Falcons safety who later became an NFL scout and personnel executive, said Beasley is underachieving.

"They need more pass rush out of him," Riddick said on a recent episode of ESPN's "NFL Insiders." "It really has not manufactured the way they thought it would… . . This is a guy who has been caught off guard by how teams try to protect against speed rushers. He's been chipped and hit a lot. He needs to work through that. They need more production out of him."
Yes, the Bucs definitely should draft a pass rusher in the 2016 draft. But that doesn't mean they necessarily must use a premium pick to get that guy. It's all about evaluation, coaching and luck.
The formula hasn't been simple for Lovie Smith and Jason Licht in the edge rush department. The last two Johnsons they hand picked in the offseason were serious busts.