White House Snub Still Bugs Derrick Brooks
November 19th, 2015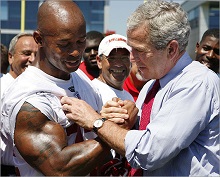 Hall of Famer Derrick Brooks works as an NFL appeals officer, runs the Tampa Bay Storm, plays a role in his acclaimed Tampa charter school, raises his family, co-hosts a weekly radio show on WDAE-AM 620, stars in Bright House commercials, and makes public appearances for the Buccaneers, among other interests, but Brooks still finds a time to seethe about his Buccaneers getting snubbed.
The little-known subject of the Super Bowl champion Bucs never getting invited to the White House came up yesterday on Tampa-2, the WDAE show Brooks hosts with Steve Duemig.
Brooks admitted that he's put a lot of effort into letting important people know the visit never happened and his team is ready head to Washington D.C., but the right people haven't listened.
Duemig asked Brooks, "It's gotta eat you alive?" And Brooks replied, "When I think about it, it does. I don't know how much our organization pushed for it, if our owners pushed to have it done. I don't know. Yeah, it does bother me a little bit because other teams, they've made up with the other championship teams and hosted them."

Brooks said honorary trips to the White House were suspended after the terrorist attacks of Sept. 11, 2001, but Presidents have since scheduled make up visits, except not with the Bucs. "All the other teams have made up their trip except us," Brooks said.
Duemig said to Brooks, "Why don't you write a letter to Obama?"
"Trust me, I've made it known (laughs) to a lot of people," Brooks said. "I thought it was the right people."
It's really time to right this wrong. Joe's going to make a few phone calls.