"Wet The Balls A Little Bit, Just In Case"
November 11th, 2015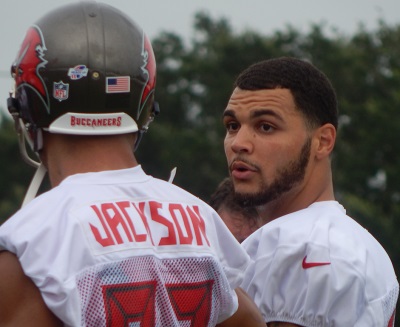 Mike Evans has a plan to help raise his game.
Evans gets open routinely for Jameis Winston, America's Quarterback, but squeezing balls is the only thing preventing him from a Pro Bowl season.
Evans' double-digit drops this season have made big headlines and he's committed to stopping the embarrassment, Evans said this afternoon in the Bucs' locker room.
It won't just be mental conditioning, Evans said today. There will be physical work, too.
"Get on the JUGS more, I guess. You know, wet the balls a little bit just in case," Evans said of how his routine likely will change this week. "Tampa is a rainy city. So you never know what kind of weather you're going to get. Just more repetition. Hopefully, I'll have a good week of practice and that will transfer to the game."
Joe appreciates Evans' attitude and openness. Joe's not about to get too down on a 22-year-old player with mad talent.
Joe asked Evans what Lovie Smith had to say to him about his six drops on Sunday. "He just told me I'm a great player an just keep playing, and the drops will clean up."
Don't worry, Evans hasn't lost his swagger.
"I've done some good things. My bad days are 150 [yards receiving against the Giants]. That's alright. If I can improve on that, then that'll be great."