Unacceptable!
November 29th, 2015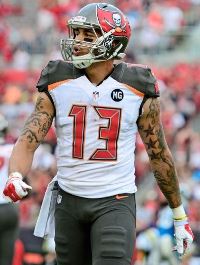 Mike Evans is a great talent who has had some excellent days in the first 27 games of his career.
But Joe must call it as it is, Evans' issues catching the football are unacceptable. He's the No. 7 overall pick from last year's draft.
Evans' drop of a perfectly-thrown Jameis Winston sure touchdown pass was a game-changer in Indianapolis this afternoon, a soul-sucker you'd expect from Michael Clayton or Arrelious Benn or Maurice Stovall.
When you're drafted that high, you can't have trouble squeezing footballs. It's like Mark Barron being unable to cover receivers after being the No. 7 overall pick in 2012.
What really makes today's drop bad is because Evans didn't go up aggressively for the ball like he's coached to do. He barely even put his hands up, despite staring at the football. Letting the ball drop into his gut like that was poor form, and then to not squeeze it is, well, unacceptable and bordering on criminal.
No. Joe's not being hard on Evans. His sole job is to catch footballs. That's why he's paid big bucks.
Nobody really gives a crap how good of a blocker he is — like Clayton was.
The Bucs are going to have to look themselves in the mirror this offseason, if Evans keeps having issues with drops. You can't forge ahead with America's Quarterback and have a No. 1 wide receiver that has issues.
And somebody needs to tell Evans he's going to get a seat on the bench the next time it even looks like he gives up on a route. That just can't happen.