Some Love For Akeem Spence
November 29th, 2015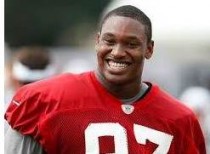 Let's hear it for the birthday boy, Akeem Spence.
The Bucs' starting defensive tackle turns 24 today, and Tampa Bay's defensive fortunes turned positively when he replaced injured captain Clinton McDonald a month ago.
Joe's not trying to make a case that Spence is better than McDonald, who turns 29 in a few weeks. But Spence has proven that he's at least a capable starter. And considering Spence is coming off August back surgery, his return has been damn impressive.
Recently, Joe talked to Gerald McCoy about Spence, and there's a lot of respect there. McCoy noted how Spence started and played 16 games as a rookie in 2013, and that Spence is "built for the position" at nose tackle.
Given that Spence got a late start to this season, his play should be on the rise. Joe will be watching for that today. The Colts' offensive line is hardly impressive.
The Bucs are lucky to have Spence, and he'll be around another season on the cheap, thanks to his rock-bottom rookie contract as a fourth-round pick of former Bucs rockstar general manager Mark Dominik in 2013. Remember, Greg Schiano said publicly, after the Jaguars signed former nose tackle Roy Miller in free agency, that he wanted to keep Miller.