Pitiful Streak
November 21st, 2015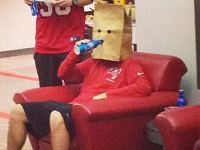 Not sure how many Bucs fans noticed, but during that ungodly boring Titans-Jags game Thursday — (apparently it had an interesting ending but was so bad early Joe bailed before halftime) — the broadcast revealed the teams with the longest streaks in the NFL without back-to-back wins.
The Bucs had the longest streak at 31 games. However, per Pro-Football-Reference.com, that number for the Bucs stands at 30.
Still, that is a terrible streak and shows just how bad this franchise has fallen off the map. Not since the Bucs under then-commander Greg Schoano ended November 2013 with a three-game winning streak (Miami and Atlanta at home, Detroit on the road) have the Bucs won consecutive games. That's pitiful.
Yes, the Bucs are on the outskirts of a playoff push. But unless they snap this ugly streak and win a game in Philly tomorrow, you can pretty much kiss any hope goodbye.