Mike Evans Loves Catching The Cold
November 18th, 2015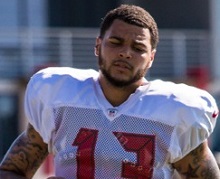 Kickoff Sunday in Philadelphia is forecast to be 44 degrees and sunny with a steady 15-miles-per-hour wind.
The Bucs' man with slippery-hands issues, Mike Evans, can't wait.
"I love cold games," Evans said. "You don't sweat as much. You get more energy in games. I get an IV most games, you know, because of the heat and I need a little extra juice. Cold games, I like them."
What's noteworthy is Evans has said he's struggled to find gloves for wet balls and sweaty hands this season. He also has commented that he doesn't like domes.
Perhaps Philly will be the perfect tonic for him. Evans' biggest game as a professional came on a cold mid-November day in Washington last year.