Kwon Alexander Says Common Energy Drink Led To League Suspension
November 22nd, 2015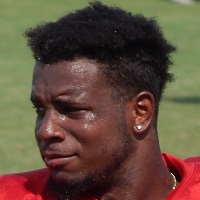 What kind of league slaps woman abuser Greg Hardy with a four-game suspension and issues the same punishment to a 21-year-old, 227-pound linebacker who likes energy drinks at 7-11?
Alas, this appears to be what the Bucs are dealing with.
Starting middle linebacker Kwon Alexander, Tampa Bay's leading solo tackler today with eight, officially will get that four-game slap from the NFL this week. It will be called a violation of the league's performance enhancing drug policy.
Joe will call it Red Bull&%it.
"It was an energy drink and I didn't know because I would drink this all the time when I was in high school and so forth," Kwon told Joe and other reporters after the game in the happy Bucs locker room.

"Like I said before, I have never been in any kind of trouble before or anything. I don't really want to say what the name of the drink was because I'm not going to get into that."
Kwon said he will appeal and was quick to say it was all his fault. The 21-year-old rookie admitted he's been told many times not to drink anything until he gets a thumbs up from the Buccaneers.