"Jack" Is Back
November 22nd, 2015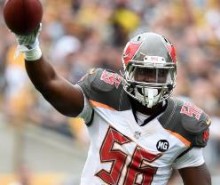 Defensive end Jacquies Smith won't be playing in a Pro Bowl anytime soon, but he's a darn good football player.
Hell, the guy has 12 sacks in just fifteen career starts for your Tampa Bay Buccaneers.
Smith's return to action today was a legitimate presence to be felt.
In what might have been the worst call by replay officials in the history of the NFL, Smith's first-drive fumble recovery was botched by the refs. He picked up a fumble deep in Eagles' territory, ran with the ball, was tackled, and then the ball clearly popped out long after his knee was down. But it was ruled a fumble and the Eagles got the ball back.
Officially, Smith had half a sack today, giving him 5 1/2 on the season. But Joe suspects further review will give Smith another half sack when the league stats guys look at the film. Gerald McCoy was credited for a full sack on one play when it should have been split with Smith.
Regardless, after missing two games with an ankle injury, Smith was a factor this afternoon. And what a tough game to make a return, against the fast-paced, up-tempo Eagles offense.
Smith told Joe after the game that he was fully ready to play and he was just happy to have the team win, though he was bitter about leaving "a couple of sacks" on the field.
Perhaps those come next week in Indianapolis? With six games to play, Smith needs 4 1/2 to hit the magical 10-sack mark. Not bad for a guy general manager Jason Licht plucked off the street in September 2014.